François Cotinaud was born in Morocco in 1956. In his childhood, he was bathed in music, dance, poetry and painting. Being particularly keen on jazz music, he explored the worlds of be-bop and free jazz music. He also went in a lot for improvisation in France.
François Cotinaud studied piano (1964-1971), drums (1967-1972), and later, he studied saxophone (mostly tenor and soprano) and clarinet.
He studied improvisation with Alan Silva, Jo Maka, Jimmy Lyons, Cecil Taylor, Archie Shepp, Steve Lacy, Lee Konitz, Paul Motian, Joe Lovano, Kenny Wheeler, Steve Coleman, Joëlle Léandre, Bojan Z or Garrett List.
Teacher
He taught in
I.A.C.P.
(Institut Art Culture Perception), in Paris, from 1977 to 1986. This school was built by Alan Silva, around the concept of 'Musical perception', and gathered a lot of musicians such as Itaru Oki, Denis Colin, Didier Petit, Bruno Girard, Pascal Bréchet, or crossed the way of Bill Dixon, Alex Von Schlippenbach, Bernard Vitet, Charles Tyler, Sun Ra, Cecil Taylor and so on.
F.Cotinaud taught there musical improvisation and perception, saxophone contemporary approaches, and became General Director of this music school from february 82 to march 85.
He is involved in pedagogy through many workshops and master classes, teaching improvisation and Soundpainting to students and music teachers.
Teaching Soundpainting
François Cotinaud learned Soundpainting with Walter Thompson, François Jeanneau.
He jointed the
SPOUMJ
of François Jeanneau in 2006, and founded in 2010 the
KLANGFARBEN ENSEMBLE
(2 actors, 2 dancers, 9 musicians).
2009-2010 – Residence one year in the conservatory of Alfortville.
2011 – Workshop to the conservatory of Troyes.
2012-2013 – Residence one year in the conservatory of Saint-Dizier.
2013 – First DVD recording of Soundpainting in France, with Klangfarben : « Monologue de Schönberg / Variations sur une collection de timbres ».
2013 – Workshop to the Maison des Pratiques Amateures, conferences (médiathèques).
2013-2014 – Residence one year with the Spoumj in Seine Saint-Denis.
2014 – Actors class of Alain Gintzburger in conservatory of centre (Paris). Workshop to the Pratiques Amateures. Class CHAM in Lycée Brassens (Paris 19ème). Conferences (Sorbonne nouvelle).
2014-2015 – Residence one year with Sylvie Cohen to the conservatory of Noisy-le-Sec.
2015 – Workshop in Corbigny (Nevers) with Reso. Class APAC Paris 19ème. Actors class of Alain Gintzburger in conservatory of centre (Paris). Workshop in Sibelius-Academy (Helsinki). Soundpainting class in Mozart conservatory (Paris).
2016 - Residence in Chelles with Klangfarben. Concert at Philharmonie of Paris with ensemble intercontemporain, shortly directed by him, around a program of François Rossé. Think Tank in Milan. Workshop in Quiberon. Workshop in Villers-Cotteret (with Philippe Laugier). Soundpainting class in Mozart conservatory (Paris).
2017 - Soundpainting class in Mozart conservatory (Paris). Recording project with Multilaterale ensemble and Benjamin de la Fuente.
2018 - Soundpainting class in Mozart conservatory (Paris). Workshop in Beauvais, le Pré Saint-Gervais. Think Tank in Valencia (Spain).
In 2013 and 2014, he became the artistic director of the «
SOUNDPAINTING FESTIVAL
», first worldwide festival of Soundpainting, in France.
Composer, musician
At that time, he founded Texture ensemble (1977-1987), with Denis Colin (bass clarinet).
He did many concerts with Texture, wtih Alan Silva's Celestrial Orchestra, and also with Beñiat Achiary, Serge Adam, Gaël Ascal, Daniel Beaussier, Pascal Bréchet, Marc Buronfosse, Kent Carter, Denis Charolles, Bruno Chevillon, François Choiselat, Andrew Crocker, Geoffroy De Masure, Manuel Denizet, Sophia Domancich, Guillaume Dommartin, Pierre Durand, Gildas Etevenard, Emek Evci, Glenn Ferris, Bobby Few, Pascal Gallois, Alain Grange, Eric Groleau, Barry Guy, Chris Hayward, Denis Van Hecke, Carole Hémard, Chris Henderson, Steve Lacy, Daunik Lazro, Joëlle Léandre, Michel Maurer, François Mechali, François Merville, Youval Micenmacher, Jouk Minor, François Nicolas, M'ra Oma Brotherwood, Fred Pallem, Evan Parker, Barre Phillips, Jean-Luc Ponthieux, Hasse Poulsen, Sun Ra, Enrico Rava, Françoise Rivalland, Yves Robert, Henri Roger, Philippe Seignez, Philippe Sellam, Olivier Sens, Walter Thompson, Charles Tyler, François Verly, Agnès Vesterman, Luis Vina, Carlos Zingaro, Mike Zwerin.
In 1985, he created a quartet with the incredible drummer Ramon Lopez, Heriberto Paredes and Thierry Colson, and later with Gilles Coronado on guitar.
His CD " Loco solo " (1998) inspired by Luciano Berio shows his taste for contemporary music mingled with improvised and subversive musical language.
He plays also in
Left
trio with Joelle Leandre and François Merville, and is involved in
Haliple
group of François Choiselat, with Olivier Sens and Deborah Walker.
Then he joined
Detours
(François Choiselat, Carlos Zingaro, Denis Charolles).
Judish-spanish music
" Yo m'enamori " displays his fascination for Eastern music and also his Mediterranean sensitivity through the prism of a contemporary second reading freed from the tradition, together with pianist Sylvie Cohen.
Musical theater

In 1999, he jointed the Alka collectif, for which he wrote 'Son Fabrique et Voix', a musical version of the poetic world of french writers Velter, Pagnier, and Bartelt.
Doing so, he get back to poetry and words's games, creating a new version of
"François Cotinaud fait son Raymond Queneau"
in 2001, then
"Parade sauvage" (around Rimbaud)
in 2004, founding the
Text'Up ensemble
(with singer Pascale Labbé, François Choiselat (tb), Jérôme Lefebvre (g) et Sylvain Lemêtre (perc).
He played with the percussionist Pierre Charpy, with electro-acoustic systems, around some texts of Arthur Rimbaud (
"Rimbaud et M.A.O."
).
En 2007, he founds a new duet around poetry, intitled
Poetica Vivace !
(with celloist Deborah Walker) and
Air Lunch
(Valentine Quintin, Philippe Lemoine).
Composer, musician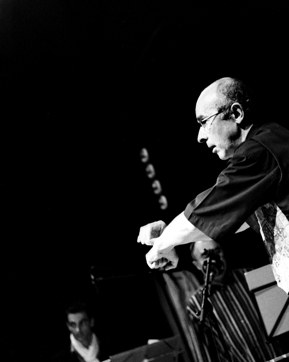 François Cotinaud (ph.Hélène Collon)
In 2013, he have founded
Algèbre
(Pierre Durand, Daniel Beaussier), who invite Bruno Chevillon, François Merville and Denis Charolles.
In 2015, concerts and recording with
Luxus
ensemble (Pascale Labbé, François Cotinaud, Jérôme Lefebvre).
Klangfarben
is the main ensemble that he leads.
cf.
wikipedia